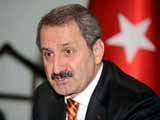 Turkish State Minister for Foreign Trade, Zafer Caglayan who is visiting Germany, has said EU's visa regime against Turkey was a human rights violation.
Caglayan who got together with representatives of civil organizations at the Ritz Carlton Hotel in Berlin on Thursday said the visa requirement for Turkish businessmen and industrialists was a technical obstacle to trade.
"The steps taken by Turkey, and its rights stemming from past agreements are clear. While ongoing lawsuits and court decisions on these cases are there, visa obligation for Turkish nationals, particularly Turkish businessmen are inhumane. This can not possibly be tolerated," said Caglayan.
Minister Caglayan said that Turkish citizens had the right to travel to EU countries without a visa, stemming from the Ankara Agreement.
"It is clearly stated that signatories of the said agreement can not require visa (from each other's citizens). We are inviting all parties to honor that agreement. In the light of all these (facts), we especially hope Germany will take the necessary steps in line with the agreement and the court rulings, and establish the rule of law. I hope that Germany will take the necessary steps as soon as possible and open the door initially for businessmen, and then for the rest of the (Turkish) society," said Caglayan.
Caglayan who pointed out that Turkey was the only country to make a customs union with the EU, said the Union was not even honouring, the free travel of goods and capital, one of the most important chapters of the negotiation process. He said Turkish goods was not allowed to travel freely within EU territory.
/World Bulletin/