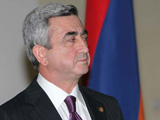 Russia's role in resolving the Nagorno-Karabakh problem is great, Armenian President Serzh Sargsyan said in an interview with the Echo of Moscow radio station.
"I consider Russia as the major and most authoritative player in our region. Russia can do so that peace and prosperity was established in our region. I should express my gratitude to the Russian president because he is busy actively seeking peaceful solutions," Sargsyan said.
He added that it is no coincidence that Russia was involved in the negotiation process from the beginning.
"Due to the fact that Russia has such authority, we expect a great deal from the country," Sargsyan said.
/
Trend
/