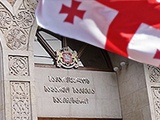 The Georgian Foreign Ministry expressed protest over the deployment of the team of specialists from the state-owned Russian Railway in breakaway Abkhazia to repair sections of Abkhaz railway, saying that Russia's goal was "to create military infrastructure."
"Taking into consideration the military actions carried out by Russia on the occupied territories (deployment of anti-aircraft complex S-300, Tactical Operational Missile Complex "Tochka – U" and Smerch multiple-launch rocket systems, as well as permanent military drills, etc) we believe that the intention of Russia is to create military infrastructure in order to ensure the deployment of armored equipment and military personnel on the occupied territory of Georgia," the Georgian Foreign Ministry said in a statement issued on January 26.
According to the same statement, three brigades, including 800 specialists, will be involved in the process of rehabilitation of railway sections from the river Psou on the Russian border to Sokhumi, as well as on a section between the towns of Tkvarcheli and Ochamchire.
"The Ministry of Foreign Affairs of Georgia expresses its strong protest over Russia's military build-up on the occupied territories of Georgia," the statement reads.
It also emphasized that "Russia's full-scale military aggression against Georgia in August 2008 was preceded by the introduction of railway troops into Abkhazia, Georgia with the alleged aim of restoring this very section of the Georgian railway."
The Russian Ministry of Defense deployed its Railway Forces in Abkhazia in May, 2008 to repair some sections of the Abkhaz railway; the move was strongly condemned by Tbilisi, which said at the time that Russia was preparing infrastructure in Abkhazia for possible military aggression.
In July, 2008 Russia announced about withdrawal of its Railway Forces from Abkhazia saying that it repaired a 54-kilometer section of railway between the capital Sokhumi and Ochamchire, including eight railway bridges.
/Civil.ge/