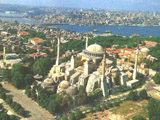 The second round of Istanbul talks between Iran and Group 5+1 ended. The talks, which lasted until late night on Friday, will continue on Saturday. The first round of talks between Iran and Group 5+1, including the USA, Britain, France, China, Russia and Germany, started on Friday morning.
Before holding the second round of talks, Iran's secretary of Supreme National Security Council Saeed Jalili met separately with European Union Foreign Policy Chief Katharine Ashton, Turkish Foreign Minister Ahmet Davutoglu, as well as representatives from China and Russia.
All these meetings were behind closed doors, so contents of the talks were not disclosed to media.
According to the observers in Istanbul talks, although talks took more time than expected, they were held in a positive atmosphere.
/IRNA/