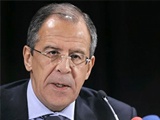 Russia's top diplomat, Sergey Lavrov, was set to arrive in Istanbul on Wednesday for a two-day visit to participate in a meeting of a high-level cooperation council between Turkey and Russia.
Lavrov will attend the first meeting of the Turkish-Russian Joint Strategic Planning Group, which is carrying out preparatory work ahead of the High-Level Cooperation Council meeting scheduled to be held in Moscow in March. "Since Turkey and Russia have elections this year, we should resolve any problems before the elections," Russian Ambassador to Ankara Vladimir Ivanovskiy said in a recent interview with daily Cumhuriyet.
The High-Level Cooperation Council between Russia and Turkey is an intergovernmental cooperation mechanism that lays the foundation for the strategic partnership of the two countries.
Lavrov will meet with Prime Minister Recep Tayyip Erdoğan and Turkish Foreign Minister Ahmet Davutoğlu during his stay in Turkey. The Russian minister will exchange views on recent developments in the Balkans, the Caucasus, Cyprus, Middle East problems, Iraq and Afghanistan along with bilateral relations.
Iran will be a major topic in the discussions. EU High Representative for Foreign Affairs and Security Policy Catherine Ashton and Iran's chief nuclear negotiator Said Jalili will participate in talks between six world power countries (the five permanent members of the U.N. Security Council and Germany) and Iran in Istanbul on Thursday and Friday. Russian Deputy Foreign Minister Sergey Ryabkov will represent Russia.
The two countries signed a readmission agreement on Tuesday in order to implement a mutual facilitation in visa regime. "The visa exemption concerns all citizens of the two countries who travel for up to 30 days," a diplomat from the Russian Embassy in Ankara told the Hürriyet Daily News and Economic Review on Wednesday.
Russia and Turkey signed an agreement in May 2010 for the mutual visa facilitation as part of a series of accords signed during Russian President Dmitry Medvedev's visit to Ankara. "Following the signed agreements' adoption in Turkish Parliament, the new visa regime will be applied," the same diplomat said.
Turkish-Russian ties have predominantly expanded on an economic basis, especially with energy deals. Projects in the energy sector such as Samsun-Ceyhan, South Stream and Nabucco will also be on the agenda of the preparatory talks. Turkey receives 70 percent of its energy resources, including gas and oil, from Russia. Turkey will also put into operation its first Turkish nuclear power plant with Russian-Turkish cooperation.
The two countries have trade ties totaling some $40 billion.
Lavrov will visit Turkey on Thursday and the first meeting of joint strategic planning group will be held.
/Hurriyet Daily News/