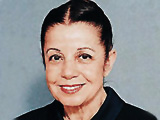 Member of the Grand National Assembly of Turkey from the Republican People's Party, member of the Turkish delegation to PACE Birgen Kelesh says Armenian president's remarks made during recent Greek Cyprus trip show the Armenian leader has a wrong approach.
Serzh Sargsyan said "Armenia does not oppose Turkey's EU admission, but it is sure that Turkey will fail to pave the way to the EU without establishing constructive relations with immediate neighbors."
"Can we call it a fair statement? Sargsyan wants to mend relations with the Greek part of Cyprus and to draw them to his side. Actually, there is cooperation between them. That's why he says so," Kelesh added.  
"In any case, this is an unfriendly approach," she said. 
"I have not ever seen a friendly approach from Armenia. Even when the protocols were signed to normalize the relations with Turkey, Armenia did not waive its claims against Ankara," the Turkish parliamentarian noted.
/Day.Az/