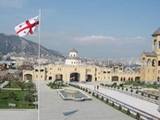 EU Council, the bloc's main decision-making body, concluded on January 18, two agreements with Georgia - one on visa facilitation and another on readmission of illegal immigrants. The two agreements, which were ratified by the European Parliament in December, will enter into force on March 1, 2011, EU said in a press release on Tuesday.
The United Kingdom and Ireland are not part to the agreement on visa facilitation; Ireland and Denmark are not taking part in the readmission agreement.
The visa facilitation agreement will simplify procedures for obtaining visas for the Georgian citizens and will cut the current EUR 60 visa fee to EUR 35; it  also envisages waiving fees for specific categories such as close relatives who are visiting Georgian citizens residing in the EU, pensioners, children below the age of 12, disabled persons, scientists, students and journalists. The agreement also stipulates that a decision upon the request to issue a visa must be taken within 10 calendar days.
Readmission agreement lays out obligations and procedures for the Georgian authorities as to when and how to take back people who are illegally residing in EU.
/Civil.ge/