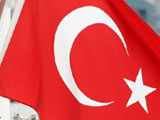 Turkey has agreed to take part in an international "contact group" proposed by France amid Ankara's other ongoing efforts to help Lebanon overcome its political crisis.
Prime Minister Recep Tayyip Erdoğan, who met Monday with the Syrian and Qatari leaders to discuss developments in Lebanon, said he had received an invitation to the group Sunday from French President Nicolas Sarkozy and had asked his office to reply favorably.
No date has yet been proposed for a meeting of the group, Erdoğan said. Sarkozy's office said in a statement Sunday that a meeting would be held "as soon as possible."
The French president's office said Sarkozy has been discussing the crisis that erupted following the collapse last week of the national unity government in Lebanon with key figures including Lebanese caretaker Prime Minister Saad al-Hariri, King Abdullah bin Abdul Aziz of Saudi Arabia, the presidents of Syria and Turkey, the emir of Qatar and U.S. President Barack Obama.
The crisis in Lebanon likewise topped the agenda Monday at the meeting in Damascus between Erdoğan, Syrian President Bashar al-Assad and the emir of Qatar, Sheikh Hamad bin Khalifa al-Thani. The meeting was continuing as Hürriyet Daily News & Economic Review went to press Monday evening.
Iran's acting foreign minister, Ali Akbar Salehi, was meanwhile headed for Turkey on Monday for discussions as part of regional efforts aiming to help solve Lebanon's political crisis, Iranian news agencies reported. The ISNA and Fars agencies said Salehi was to hold talks with Turkish officials on the latest political developments in Lebanon.
The visit follows a telephone call Saturday from Iranian President Mahmoud Ahmadinejad to Erdoğan in which the Iranian leader called for a quick solution to Lebanon's political crisis. The unity government led by al-Hariri collapsed last week after Hezbollah and its allies pulled their ministers from the Cabinet as part of a long-running dispute over the U.N.-backed Special Tribunal for Lebanon. The tribunal was expected late Monday to indict high-ranking Hezbollah members in the 2005 assassination of ex-premier Rafiq al-Hariri, Saad's father.
Talks with parliamentary groups on naming a new prime minister in the crisis-hit Middle East country were postponed Monday. "After assessing the positions of various parties in Lebanon... President Michel Suleiman has decided to postpone parliamentary consultations until next Monday," the president's office said in a statement.
The talks had been scheduled after the Shiite group Hezbollah forced the collapse of the al-Hariri's Western-backed government. Mohamed Chatah, a top advisor to al-Hariri, said the postponement was aimed at giving international efforts to defuse the impasse between the rival Lebanese parties a chance to succeed and prevent an escalation of the conflict.
"The fact that efforts are underway, locally but equally importantly abroad – all these things are aimed at finding a way to either resolve the crisis or make sure that the political impasse does not deteriorate into something worse," Chatah said. He said he regretted, however, that the solution was being brokered outside Lebanon, referring to the summit Monday between the Turkish, Qatari and Syrian leadership in Damascus.
"From our standpoint there is a bit of a bitter taste to the fact that this is happening elsewhere," Chatah said. "After all, we are talking about a Lebanese political crisis, the address of which should be here," and not in Damascus.
Lebanon's Foreign Ministry meanwhile summoned the U.S. ambassador over concerns that she was interfering with internal politics, officials said. The controversy stems from a meeting over the weekend between U.S. envoy Maura Connelly and lawmaker Nicolas Fattouch, who is seen as a key "undecided" figure as Lebanon's political factions scramble to form a new government.
Lebanese Foreign Minister Ali Shami "considers these kinds of contacts as interference in Lebanon's internal affairs," the ministry said in a statement. After Monday's meeting with Shami, Connelly's office denied any interference.
Hezbollah chief Hassan Nasrallah said Monday he believes the pending indictments would implicate members of his party and has accused the tribunal of being part of a U.S.-Israeli plot. In a televised speech late Sunday, Nasrallah vowed his group would defend itself against the likely charges, without giving details. "We will not allow our reputation and our dignity to be tarnished nor will we allow anyone to conspire against us or to unjustly drench us in [Rafiq] al-Hariri's blood," Nasrallah said. The Shiite leader said his party would disclose in the coming days how it planned to defend itself in light of the indictments, the contents of which will not immediately be made public.
Nasrallah also said his party and its allies would not nominate al-Hariri for the premiership and accused the United States of scuttling an initiative by regional heavyweights Saudi Arabia and Syria to forge a compromise in the standoff over the tribunal.
/Hurriyet Daily News/