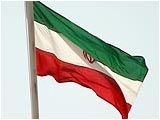 Over the past seven days, Iran has shot the intelligence aircrafts of the United States, Britain and Israel several times, an Iranian armed forces' high-ranking official, who requested to be anonymous.
Most of the aircrafts were shot by the Iranian armed forces outside the country's air space, the source said. "We defend our air borders and Iran will not allow the other countries' intelligence aircrafts to break its air borders," the source said.
U.S. drones were shot down by anti-aircraft guns of the Islamic Revolution Guards Corps in the Gulf outside Iran's air space, Deputy Chief of the Staff of the Iranian armed forces, General Rashid Gulamali, was quoted by Fars as saying earlier.
The wreckage was found in Iran, Rashid said.
According to Fars, fragments of drones will be showcased to media representatives in the coming days. In early January, the commander of aerospace forces of Islamic Revolution Guards Corps Brigadier General Amir Ali Hadzhirzadeh said that two drones were shot down over the Persian Gulf.
The international media reported that the Pentagon doubted over Iran's statement over the shot of several intelligence aircrafts. "We have not received any information that would approve the ICRG's statements," Pentagon spokesman, Col. Dave Lapan said.
/
Trend
/