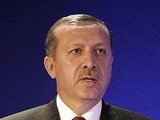 Turkish Prime Minister Recep Tayyip Erdogan said Monday that he received an invitation from French President Nicolas Sarkozy for an international meeting on recent political crisis in Lebanon.
Prime Minister Erdogan left for Damascus, Syria to attend a tripartite meeting with Qatar's Amir Sheikh Hamad bin Khalifa al-Thani and Syrian President Bashar al-Assad aiming to find a solution to the recent political crisis in Lebanon.
He told reporters at a news conference at Istanbul's Ataturk Airport prior to his departure, "President Sarkozy sent a letter inviting us to the international meeting on Lebanon. And we responded his invitation in the affirmative. Seven countries have been invited to the meeting so far. Date of the gathering will be set later."
Prime Minister Erdogan added that the foreign minister of Iran would also come to Turkey later in the day to hold talks about the developments in Lebanon.
/World Bulletin/