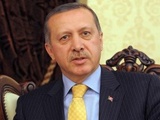 Turkey's ruling AK Party, led by Prime Minister Tayyip Erdogan, has the backing of 46 percent of voters, less than six months before a national election, an opinion poll published on Sunday showed.
If the findings of the survey, conducted in December by Konsensus pollster for the Haberturk newspaper, were replicated in the June vote, the AK Party would secure a third consecutive term, having first come to power in 2002.
The AK Party won 47% of the vote at the last election in 2007. The AK has overseen a period of unprecedented economic growth in Turkey, after coming to power when the country was struggling out of the 2000/01 economic crisis.
Erdogan says he will introduce a new constitution if he wins another term.
The Konsensus poll showed support for the main secular opposition, the Republican People's Party (CHP), at 26%, an improvement on its 2007 showing of 21%.
The more conservative Nationalist Movement Party had backing from 12% of voters, a slide from its 2007 result when the party took just over 14% of the vote. Of the 1,500 people asked, more than 11% said they were undecided, while almost 10 percent said they did not intend to vote. Haberturk did not report the margin of error.
/World Bulletin/