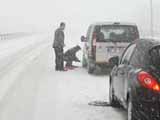 Heavy snowfall has caused cancellation of classes in the capital Tehran and other provinces of Iran, including Qom, Hamadan, West Azerbaijan, etc. 
On Sunday due to heavy snowfall and slippery roads kindergartens, schools and vocational schools were temporarily closed during the morning shift (Friday is considered a day off in Iran).
Slippery roads and poor visibility caused the closure of freeways Tekab-Iranha in the province of West Azerbaijan, Gidar-Aphar in Zendjan, Karaj-Chaluz and Shimshak-Dizin in Tehran province. If weather conditions do not change, it is supposed to cancel classes on Monday.
/
Trend
/