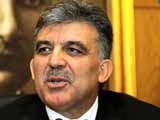 Turkish President Abdullah Gul said Friday that he expected German Chancellor Angela Merkel to be more cautious and constructive in a recent visit to southern Cyprus.
Gul's comments came after Merkel referred to Turkish presence in Cyprus as "invasion" during a recent visit to southern Cyprus.
Speaking to reporters in north-western province of Balikesir, President Gul said that he expected Europe's strongest country to be more cautious and constructive on Cyprus.
"Greek Cypriots were admitted into the European Union (EU) after EU's basic principles were violated. Greek Cypriot administration should not have been permitted into the Union before a solution in Cyprus. All involved must act in a constructive manner so as to facilitate peace. The Annan Plan voted on in 2004 was also the plan of the EU. The then EU Commissioner for Enlargement Gunter Verheugen said that they were deceived by the Greek Cypriots. Ms. Merkel had to speak by taking into consideration such remarks of the past. I was saddened by the way Merkel spoke," Gul also said.
/World Bulletin/