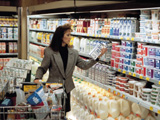 Quickly rising food prices and slowing agricultural production have presented Armenia's new agriculture minister, Sergo Karapetian, with a difficult task as shoppers remain pessimistic about the government's new plans to deal with the problem.
Price increases for many basic foodstuffs have far outstripped Armenia's official 9.7% inflation rate. Compared with the start of the year, prices for potatoes in Yerevan grocery stores and bazaars by late 2010 had risen by 150% (to 250 drams or 68 cents/kilogram), meat by 30% (to 2,900 drams or $7.97 per kilogram), and cheese by at least 80% (to 2,700 drams or $7.42/kilogram).
The biggest price surge was recorded in late December, on the eve of the New Year holiday, when preparations for festivities were in full swing.
"I have no hope that people's lives will get better or that prices will go down," complained 50-something homemaker Manik Galstian, while shopping in downtown Yerevan. "Have you ever seen such prices? It's only the people who suffer."
Together with increased prices for meat, nuts, vegetables, dried and fresh fruit, eggs totally disappeared from Yerevan store shelves. They started reappearing after New Year's Day, but were at least 200-percent more expensive, rising in price to 120 drams, or 33 cents per egg.
Overall, the government estimates that Armenia's agricultural production plummeted by 14.5% last year, a drop caused by inclement weather and the Agriculture Ministry's allegedly slow response to adverse conditions.
Sensing the political need for action, the coalition government laid the blame for the shortages and sky-high food prices on Agriculture Minister Gerasim Alaverdian. Within the coalition government, the agriculture portfolio is held by the Orinats Yerkir (Rule of Law) Party. In late December, Orinats Yerkir recalled Alaverdian, proposing in his place the 62-year-old Karapetian, who had served as chairman of the board and general director of the food processing company Artfood since 1996.
Prime Minister Tigran Sarkisian, who earlier alluded to alleged corruption in the Agriculture Ministry, heralded Karapetian on Monday as an experienced, hands-on manager who "knows the existing problems" in Armenia's agricultural sector.
"He has been in charge of the biggest food processing company in Armenia, which was the first to modernize its technology," the government's official website quoted Sarkisian as saying. "Obviously, the company's success largely depends on the competence and expertise of its management."
Without specifying, he called for "reforms and the establishment of institutional structures" in the agricultural sector.
/Hurriyet Daily News/