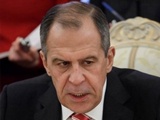 Russia intends to accelerate the process of determining the status of the Caspian Sea, Russian Foreign Minister Sergei Lavrov said during a press conference in Moscow, the Russia-24 TV channel said.
"We will cooperate to accelerate the settlement of the Caspian issue on the basis of specific tasks given by our presidents at the Baku summit of Caspian littoral countries to resolve the existing problems in this issue," Lavrov said.
The last Summit of the Heads of Caspian States was held in Baku on Nov. 18.
In general, Russia Foreign Minister welcomed 2010 for the Azerbaijani-Russian relations.
"2010 was very important for the progress in Russian-Azerbaijani relations. First of all, it refers to the agreement on the border delimitation. The issue of boundaries was not easy, but we managed to solve it by satisfying both parties, including the Russian regions bordering with Azerbaijan. I hope that this agreement will be realized in 2011, as well as all agreements on intensifying bilateral relations, which were reached during negotiations between the presidents of Azerbaijan and Russia will be implemented," Russian minister said.
/Trend/