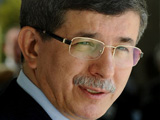 German Chancellor Angela Merkel's recent statements accusing Ankara of not taking any step toward a resolution of the Cyprus problem were a serious letdown for Turkey, its foreign minister said Wednesday.
"Ms. Merkel's latest statements caused serious disappointment on our part. If Ms. Merkel and Germany exert efforts for peace on the Cyprus issue, we will always support this, but they should first adopt an objective approach between the parties concerned," Turkish Foreign Minister Ahmet Davutoğlu said at a press conference in Ankara.
During her five-hour visit to Greek Cyprus on Tuesday, Merkel criticized Turkey and Turkish Cypriots for not doing enough to reach a deal with Greek Cypriots. Her criticism received a prompt response from Turkish Prime Minister Recep Tayyip Erdoğan.
"I guess Ms. Merkel has forgotten what she has said. It was she herself who said it was wrong to admit Greek Cyprus into the European Union. But now, she pays a visit to the Greek Cypriot administration and makes such a statement," Erdoğan said in Qatar. "It is also clear that she does not know the history of the Cyprus issue."
After meeting with Greek Cypriot President Dimitris Christofias, Merkel said Turkey needed to show more willingness to reach a settlement on the Cyprus dispute. If Merkel had talked to former Chancellor Gerhard Schroder, she would have known who was responsible for the Cyprus issue, Erdoğan said.
"I call on the chancellor to research the history and sit down for tea with Gerhard Schroder," the Turkish prime minister said.
Asked to comment on Merkel's views, Davutoğlu said Germany is one of the allies in which Turkey places the most importance. "Positive initiatives that have been taken over the last two years have come from the Turkish side. If Ms. Merkel had talked to the two parties, she would not be making one-sided statements," he said in Ankara.
"We trust her and her leadership. I hope that in the upcoming period she also listens to the Turkish side and adopt a fair and objective approach," Davutoğlu said. "We believe that Germany can play an important role but this role cannot be played by listening to one side."
Referring to Merkel's appreciation of the steps taken by the Greek Cypriots, Davutoğlu responded in an ironic tone. "Yes, the Greek Cypriots have expended efforts. They expended efforts for the rejection of the Annan plan," he said, referring to the 2004 referendum when Turks on the island voted for the plan while Greeks rejected it.
Merkel's 'blunder' historic, EU minister says
Making overtures to the Greek Cypriot administration was a historic blunder on Merkel's part, a Turkish state minister and chief EU negotiator said Wednesday. "However, we are determined and we will continue to tell the truth," State Minister Egemen Bağış told reporters before flying to Hungary.
Cypriot leaders meanwhile continued to negotiate the "Power Sharing" topic in a meeting Wednesday within the scope of extensive unification talks on the divided island. Turkish Cypriot President Derviş Eroğlu told reporters after the meeting that they made a counter-proposal to the Greek Cypriot side that Christofias asked for time to assess. The two sides will meet again Jan. 21, Eroğlu said.
Alexander Downer, the United Nations chief's special advisor on Cyprus, told reporters after the meeting that more talks would be held in Geneva on Jan. 26. He said they expected the parties to reaffirm the progress made since the meeting in New York and set a course for talks after Jan. 26.
Following his talks with Merkel, Christofias urged Turkey on Tuesday to give up what he called its "gunboat diplomacy" in the eastern Mediterranean and drop its opposition to Greek Cyprus's offshore exploration for gas deposits.
Christofias accused Turkey of hampering a Greek Cypriot search for gas off its southern shore with warplanes and navy ships. He said Turkey must stop acting like the "neighborhood policeman" if it wants to join the European Union.
"Neither Turkey, nor any other country, has the right to tell us … we don't have the right to carry out this search," Christofias said.
Turkey says the Greek Cypriot search disregards the jurisdiction of Turkish Cypriots and could damage long-running talks aimed at reunifying the island. Last month, Turkey declared that a maritime border accord between Greek Cyprus and Israel was null and void.
The Greek Cypriot government has said Turkish Cypriots could share in the potential bounty after a peace accord is signed, though Christofias said drilling is still a few years away. Energy Service Director Solon Kassinis said earlier this month that Greek Cyprus would press ahead in the second half of this year with a second licensing round for gas exploration in its 51,000-square-kilometer exploration area.
/Hurriyet Daily News/