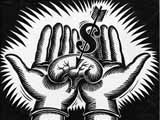 A Turkish doctor detained for alleged links to an international organ-trafficking organization based in Kosovo was released Wednesday pending trial. Yusuf Erçin Sönmez, who was detained on Tuesday evening in a raid in the Kartal district of Istanbul, denied the allegations.
Sönmez, suspected of carrying out dozens of operations as part of an alleged international organ trafficking network in Kosovo, testified for two hours at the Sultanahmet Courthouse on Wednesday. Prosecutors demanded his arrest on charges of "organized organ-trafficking," but the court overruled the request and released him.
Speaking to reporters after the hearing, Sönmez said he was involved in no crime. "There is no organ-trafficking, hence there is no evidence," he was quoted as saying by the Anatolia news agency. "I was here to testify on a probe ongoing in Kosovo. I did not get the subpoena since my address changed, that is why I was detained."
Sönmez, dubbed the "Turkish Frankenstein" in Kosovo, was apprehended on an Interpol arrest warrant on suspicion of illegal organ transplant operations in Kosovo as well as in Azerbaijan, daily Milliyet reported.
Sönmez, 53, is among at least nine people who were indicted in the case in Kosovo, which declared independence in 2008 and has struggled to shake off organized crime and corruption under international supervision, Associated Press reported.
Interpol issued a bulletin requesting the arrest of Sönmez over the Kosovar case after a district court in the country's capital, Pristina, charged him with people smuggling and illegal immigration.
Kristiina Herodes, a spokeswoman for the European Union police in Kosovo, welcomed Sönmez's arrest and said it was carried out based on the Pristina warrant. She said it was too early to comment on whether he would be extradited.
Herodes said the EU prosecutor in charge of the case, Jonathan Ratel, was working closely with Turkish judicial authorities on parallel investigations in Kosovo and Turkey.
Ratel said in his indictment that an alleged gang enticed people into Kosovo to give up some of their organs. At a hearing last week, he said poor people were given false promises of payment for their kidneys, which were then illegally sold to organ recipients.
Ratel described Sönmez as a "key surgical participant" in operations performed at a private clinic on the outskirts of Pristina.
The charges revolve around the Medicus Clinic in Pristina, which was shut down in 2008 after a police probe was launched when a young Turkish citizen collapsed at the airport after having a kidney removed for a transplant to an Israeli citizen, Agence France-Presse recently reported.
Among the suspects is a former health secretary who had issued a license to the clinic even though Kosovo law forbids organ transplants.
The charges state that the victims were recruited from poor areas across Eastern Europe and Central Asia and were promised about 15,000 euros for their organs, while recipients would pay up to 100,000 euros for an organ.
Sönmez has previously been arrested in Turkey on suspicion of illegally procuring kidneys from destitute Turks and transplanting them to patients for large profits, according to Turkish media. Most organ recipients were from other countries.
Sönmez dodged any extensive prison term by producing documents from donors attesting that no money was ever exchanged, Vatan newspaper quoted İlhan Doğan, a former health ministry inspector, as saying. Because organ donation is low, Turkey's laws allow people who are not blood relatives to donate their kidneys to needy patients as long as no money changes hands.
Doctors have to refuse transplants if they suspect there has been any financial transaction.
In statements posted on his website, Sönmez said he has also worked at a clinic in Baku, Azerbaijan. He further said he was being unfairly hounded by the Turkish media and denied any wrongdoing in the Kosovo case.
"I am being shown to be the biggest criminal and even the leader of a criminal gang," he wrote. "If I am the gang leader, where are my men?"
/Hurriyet Daily News/