The Turkish foreign affairs minister said on Monday that Turkey had no threat perception from any of its neighboring countries.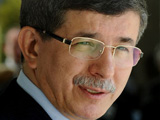 Speaking at a TV program broadcast by the state-owned TRT-Turk channel, Turkish Foreign Minister Ahmet Davutoglu, who is currently on a formal visit to China, commented on the recent developments in Iraq and said that Turkey had been extending support to the ongoing activities aiming at setting up a new government in the country.
"Iraq's stability is Turkey's stability. Any instability in Iraq constitutes a major risk for Turkey," he said.
Upon a question on NATO's missile defense system, Davutoglu said Turkey's principles on the matter had been clearly laid down at the recent NATO foreign and defense ministers' meeting.
"If there is a global terrorist threat, a risk of proliferation of conventional weapons or anything related to nuclear weapons, NATO will definitely deal with these issues. Similarly, ballistic missiles are important in terms of global peace and it is an issue assessed by NATO. It would not be right to discuss this matter as if a war was about to start or a missile shield would be established in Turkey," Davutoglu said.
The minister said Turkey should not be perceived as an element outside NATO, adding that Turkey was an actor within the organization and it provided a remarkable contribution to NATO's operations.
"We have no threat perception from our neighbors like the Cold War era," the minister noted.
Davutoglu also said that Turkey was aware of its potential, besides, it was determined to use such potential in line with its national interests. Commenting on the latest situation in the uranium swap deal with Iran, Davutoglu said talks with Iran continued without any interruptions.
"We are pleased with the progress. It is important that parties sit and start the diplomatic negotiation process as soon as possible. That will be an important positive message to the region, parties and the world. Turkey will continue to extend any kind of support on the issue," the minister added.
/World Bulletin/