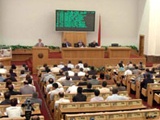 On October 27, 1999, at 5:15 p.m, a group of armed men burst into the Armenian parliament chamber and killed Armenian Prime Minister Vazgen Sargsyan and 7 other high ranking officials.
The government was holding a question-and-answer session when five gunmen entered, led by Nairi Hunanyan.
The terrorists burst into the parliament after they easily obtained passes allowing them to enter parliament, smuggling in their weapons under their overcoats. They fired their automatic weapons and killed Prime Minister Vazgen Sargsyan, Parliamentary Speaker Karen Demirchyan, Deputy Speakers Yuri Bakhshyan and Ruben Miroyan, Armenian Emergency Situations Minister Leonard Petrosyan, MPs Armenak Armenakyan, Henrikh Abrahamyan and Mikayel Kotanyan.
Nairi Hunanyan, his brother Karen Hunayan, their uncle Vram Galstyan, as well as Derenik Bejanyan, Edik Grigoryan and Ashot Knyazyan were found guilty and sentenced to life in prison.
/News.am/