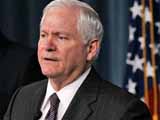 Defense Secretary Robert Gates on Monday said the United States has not pressured Turkey to take part in a NATO missile defense system, but said he hopes Ankara would endorse plans for the anti-missile shield.
"The US has engaged Turkey in political and military dialogue on its potential technical and operational contributions should NATO adopt this approach," Gates said in a speech to the American-Turkish Council in Washington.
"Contrary to some press reports, we are not pressuring Turkey to make a contribution," said Gates, according to a text of the speech released by the Pentagon.
The plan is expected to be endorsed at a NATO summit on November 19-20 in Lisbon.
Gates said that "we do look to Turkey to support NATO's adoption at the Lisbon summit of a territorial missile defense capability."
Turkey's Defense Minister Vecdi Gonul has said Ankara was also seeking an agreement on technical issues, including how the NATO-wide shield system would affect Turkey's missile system and if it would cover the entire country.
Speaking at the same event as Gates on Monday, Gonul said he welcomed the U.S. approach to the missile system "which in our view should be developed within the NATO context." But he said the NATO shield should be designed to counter "the full range of ballistic missile threats."
Stephen Flanagan, a Turkey expert at the Center for Strategic International Studies, a Washington think-tank, said Gonul's comments were a sign that Ankara was still not 100 percent on board.
"What they don't want is a headline out of Lisbon that says: NATO agrees to anti-Iran missile defense system," Flanagan said.
/World Bulletin/