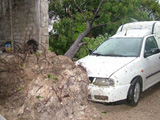 Istanbul woke up to heavy rain and congested traffic on Friday, making daily life in the province more difficult. The situation in many other provinces was similar, with the heavy rains taking hold of most of Turkey.
Heavy rain disrupted morning rush-hour traffic and paralyzed normal daily life in İstanbul. The rain, which started on Thursday and continued through Friday, led to traffic congestion in several districts. Many vehicles were trapped on flooded streets. Traffic accidents caused by slippery roads and drivers' carelessness added to traffic congestion.
Traffic was at a virtual standstill on the Trans-European Motorway (TEM) as well as on many of the city's avenues and side streets. Drivers who were in a rush to get to work formed long queues along the Bosporus and Fatih Sultan Mehmet bridges. The downpour affected many commuters' travel throughout the day; most were stuck in traffic for prolonged periods of time.
Blocked storm drains caused rain water to pool, at a depth of one meter in some places. The State Meteorology Bureau warned İstanbul residents against floods and landslides.
Many provinces in the eastern and southern parts of the Marmara region, the northern Aegean, the western Black Sea, the northwestern parts of Central Anatolia and the inner parts of the eastern regions were also battered by heavy downpours throughout yesterday. Meteorologists said the rain was expected to continue for a few more days and that temperatures were expected to drop by 2 to 4 degrees Celsius.
Flood victims trying to repair damage
Flood victims in the northwestern province of Bursa spent the whole day on Friday working to repair the damage caused by the torrential rains, which left one person dead in the city on Thursday.
Many Bursa residents spent the night awake out of fear that a new wave of floods would endanger their lives. Stating that the floods damaged their furniture, they asked for financial assistance from the state to fix their homes.
Asuman Çölek, a flood victim, said she had to spend the night at her sister's after floodwater inundated her house. "The floods damaged my furniture. I cannot live in my house any more. I cannot go to work, either. I do not know how I will be able to replace my furniture," said Cölek.
Another flood victim, Mehmet Gökbayrak, said he lost everything because of the flooding. "We cannot live in our house any longer. We spent the night at my brother's house. I saved my father from the floods as he was about to be drowned," he said.
State Meteorology Bureau General Director Mehmet Çağlar said districts in Bursa, Bilecik and Ankara received the highest recorded volume of rainfall per square meter since the establishment of meteorological stations in these cities. Çağlar noted that from Wednesday night to Thursday afternoon, Bursa received 114.8, Bilecik 92.0, Ankara's Nallıhan district 86.2 and Ankara's Beypazarı 68.0 kilograms of rainfall per square meter. He said that these figures were the highest in more than 100 years.
/World Bulletin/