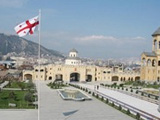 Russia's Foreign Minister, Sergey Lavrov, said the way how Georgia eased its visa rules  for Russian citizens residing in the seven North Caucasus republics showed that it was part of Tbilisi's "propaganda".
President Saakashvili signed a decree on Monday, according to which residents of North Caucasus republics will be able to enter into Georgia and stay in the country without visa for 90 days starting from October 13.
The Georgian President's administration said on October 12, that the move was part of Tbilisi's "united Caucasus" policy, priorities of which were outlined by President Saakashvili in his UN speech on September 23.
Lavrov said the Russian Foreign Ministry had not received notification about the move and Moscow learned about Georgia's decision only from media reports.
"In frames of relations, practiced between civilized partners, [decisions of this kind] are usually discussed on mutual basis," RIA Novosti news agency reported quoting Lavrov as saying on October 12. "The way how it is planned to be done looks like to be yet another propagandistic step."
Meanwhile in Tbilisi, President Saakashvili's spokesperson said on October 12, that the decision was part of Tbilisi's efforts to "deepen dialogue" with the Russia's North Caucasus republics.
"At the session of the UN General Assembly the Georgian President spoke of an important initiative about the united Caucasus," Manana Manjgaladze, the President's spokesperson said. "Naturally, this decision [on visa-free entry] is linked with the President's initiative and is aimed at deepening a dialogue among the Caucasus peoples."
The rule will apply to residents of Chechnya; Ingushetia; North Ossetia; Dagestan; Kabardino-Balkaria; Karachay-Cherkessia and Republic of Adygea.
Russian citizens can receive Georgian entry visa either upon arrival in Georgia or in the Georgian interest section at the Swiss embassy in Moscow.
Georgian visas, however, are not available at Kazbegi-Zemo Larsi border crossing point, which reopened between the two countries in March, 2010; officials in Tbilisi say that because this restriction at Kazbegi-Zemo Larsi border crossing point, it was difficult for residents of the North Caucasus republics to enter into Georgia as they had to, at first, arrive in Moscow.
The issue was briefly debated at a parliamentary session on October 12 with lawmakers from the Christian-Democratic Movement (CDM) suggesting that the move raised some security concerns, which required discussion at an extended session of National Security Council.
But the concerns were dismissed by the authorities. The President's spokesperson said: "Security in the region is controlled not through issuing of visas, but with absolutely different methods."
/Civil.ge/