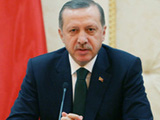 Turkish prime minister on Monday reiterated a call on Israel to make an official apology over the Jewish state's deadly raid on a Gaza-bound aid flotilla last May, demanding compensation as well for the relatives of the victims.
"As we have said before, Israel has to apologize and it has to pay compensation to the families," Recep Tayyip Erdogan told reporters in a joint press appearance with Syrian President Bashar al-Assad in Damascus.
Israeli commandos stormed the three-vessel aid convoy on May 31, killing eight Turks and a Turkish-U.S. citizen as the raid strained relations between the two countries.
United Nations launched a probe into the incident, setting up a four-member panel, which is expected to present its final report to the UN chief February next year.
The Geneva-based U.N. Human Rights Council issued a report in September on the raid, saying Israel violated international law both by attacking the aid ships and by enforcing a blockade of the Gaza Strip.
The United States cast the lone vote against the report while several European countries abstained from voting.
"The Geneva report is there, and it describes the Israeli aggression as brutal. The nine victims were killed like execution style from close range," Erdogan said, adding, "and there are countries that can still remain abstained or take side with Israel. History will not forgive such attitude on such a crime against humanity."
Erdogan said his government had called off a series of joint military exercises with Israel in protest of the flotilla raid, adding that Turkey was "reviewing relations" between the two countries.
"Certain aspects of our relations with Israel have either come to a stand-still or they have been cut off. But there are trade deals done by private companies, which still hold," Erdogan said.
"Of course, our attitude may change in line with Israel's future behavior. But if Israel insists on its law-defying attitude, it will be alienated more in its region."
/World Bulletin/