Zaruhi Postanjyan, a member of the Armenian delegation to PACE, said a document on Armenia's non-compliance with of its international obligations was circulated on her initiative.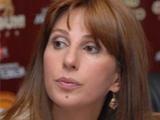 Representatives of dozen PACE member-states joined the initiative. The document posted on the PACE website says that Armenia did not fulfill its obligations contained in Resolution 1609 (2008).
The document mentions that no one is yet held responsible for the killing of 10 persons during March 1 2008 events, representatives of the opposition, convicted on politically motivated charges, are still kept in jail; the authorities refuse to examine the illegal involvement of the army in the events of March 2008.
It calls on the Armenian authorities to hold an independent, transparent and credible inquiry into the events of 1 March 2008 and release the persons detained on artificial and politically motivated charges.
The delegates who signed the document also expressed concern over criminal proceedings against the opposition activists, including journalist of Haykakan Zhamanak newspaper Ani Gevorgyan.
/News.am/