Turkish Foreign Minister Ahmet Davutoglu received "the Woodrow Wilson Award for Public Service" by Woodrow International Center at a ceremony at Four Seasons Hotel in Istanbul on Thursday.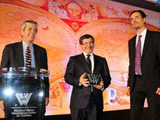 Turkey's Dogus Holding Executive Board Chairperson Ferit Sahenk also received "the Woodrow Wilson Award for Corporate Citizenship" in the ceremony. Michael H. Van Dusen, deputy director of the Woodrow Wilson International Center, gave the awards to Davutoglu and Sahenk.
Delivering a speech at the ceremony, Davutoglu said, "if the ground of the world is changing, we cannot stand firm on this ground. Our principles help us stand firm."
Davutoglu said providing a balance between idealism and realism was one of the characteristics of Woodrow Wilson, and harmony between them was very important.
"Turkey's ideals are clear. We will normalize our history and geography. We don't want either embargo or walls or nuclear weapons," he said.
If a global peace was wanted, there was need for Turkish-U.S. cooperation, he said.
"We need a new paradigm in the world. Turkey and the United States need a new paradigm in this new world order. Because the current system does not meet today's needs," he said.
Davutoglu said they were in favor of global and regional peace.
/World Bulletin/