Turkish archaeologists and historians, engaged in excavations near Tepekoy village of Erzurum city, have found a mass grave, proving barbarism, brutality of the Armenians who slaughtered hundreds of thousands of Turks at the beginning of the last century.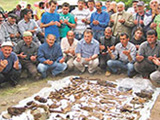 According to Turkish media, historians believe these findings may completely discourage the Armenians around the world to promote so-called "Armenian genocide" since using evidence from the mass grave, Turkey can show the whole world who were actually killed in this country in early 20th century.
According to expedition leader, Professor Erol Kurkchuoglu, excavations were carried out jointly by Research Center of Turkish-Armenian relations at University of Atatürk and archeology students of this university.
"As a result of excavations, we have found two places where Armenians brutally massacred Turks. Armenians always made use of insecure people. All armed men were sent to the front, and the Armenians had a good opportunity to deal with women, children and the elderly. Dashnaks destroyed more than 90 women in Durak Bingöl area. In 1958, the villagers dug up the remains of women and buried them in a village cemetery. Now we have found the remains of the brutally murdered people, who were shot in the pasture owned by villager Ibrahim Safa. The way the remains have been buried show that that people were tied in pairs, so one shot could kill two people. Armenians even buried wounded people alive. We even found the remains of a father and a son tied together. The findings include their clothing, torn pages of Quran and many other things. All this is clear proof, a good answer for all those who believe that Turks massacred Armenians," the professor said.
"In 1918, about 50 Dashnaks under the leadership of the French Armenian Morel destroyed all the inhabitants of several villages in Erzurum. They razed Nitekim, Aşkale, Jinish, Tazegul, Alaca, Ilica, Haidari, Tepekoy, Yeshilyayla and Timaru villages into ground. We found remains of more than 150 Turks in Tepekoy only. Now, we turn to the appropriate authorities to create a monument to martyrs, who fell at the hands of Armenian Dashnaks. We will also publish a book about it," the Turkish professor noted.
Turkish media say that officer of Erzurum municipality, Turkish citizen with Armenian roots Erkan Akalp also took part in the excavation and said he had heard about this story from his grandfather. "I believe that everyone should accept the fact of genocide. Armenia should recognize that the Armenians committed genocide. Indeed, we should not suffer because of their activity," he said.
/Vesti.az/