Iran's Parliament Speaker says he finds it hard to believe that the UN Security Council has decided to adopt new sanctions on Tehran despite all its confidence-building efforts.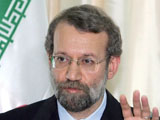 "The passage of a fourth round of sanctions resolution against Iran [over its peaceful nuclear program] is extremely strange for us," Ali Larijani told his Lebanese counterpart, Nabih Berri, in a phone conversation on Friday.
"The move was strange because it came despite efforts by Turkey and Brazil to mediate the standoff over Iran's uranium enrichment, as previously required by US President Barack Obama," he added.
Larijani was referring to the Tehran declaration that was issued by Iran, Brazil and Turkey as part of efforts to address world concerns and resolve the gridlock over the country's nuclear program.
/Press TV/