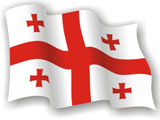 Georgia is grateful for Ukraine's refusal to recognize independence of Georgia's two breakaway regions, Abkhazia and Tskhinvali region. On 10 June 2010, Minister of Foreign Affairs of Georgia Grigol Vashadze paid a working visit to Ukraine where he met with his Ukrainian counterpart, Minister of Foreign Affairs Konstantin Grishenko.
"I want to thank the president and foreign minister of Ukraine for the statements, which were made regarding the support of Georgia`s territorial integrity," Grigol Vashadze said and added that with such politics, Ukraine played a role of stabilizer and it stood on the side of international truth.
Ukraine's President Viktor Yanukovich announced a few days ago that he was against the recognition of independence of Abkhazia and so-called South Ossetia.
In the frames of the visit the sides will sign an agreement on air traffic, between the Government of Georgia and the Cabinet of Ministers of Ukraine.
/Georgian Times/