Iran's President Mahmoud Ahmadinejad arrived Monday in Turkey to attend the summit meeting of the Conference on Interaction and Confidence-building Measures in Asia (CICA) in Istanbul.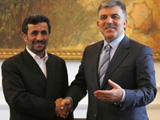 Ahmadinejad will have meetings with Turkish President Abdullah Gul and Prime Minister Recep Tayyip Erdogan on the sidelines of CICA summit.
Ahmadinejad's talks are expected to focus on Iran's nuclear program, Israeli attack on Gaza-bound aid convoy, Middle East problem, bilateral relations and other international issues. This is Ahmadinejad's third visit to Turkey as the Iranian president.
/World Bulletin/