The number of smokers reaches 17 million people in Iran, the Gazvin Province Medical Service Head Ilham Tafi was quoted as saying by Fars.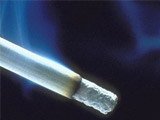 He said he regards the fact as tragedy. Tafi said the number of smokers around the world is 1,700 billion people. The world has been carrying measures to cut the use of tobacco cigarettes for over 25 years.
"Unfortunately, only one center dealing with fight against cigarettes was opened in our country 7 years ago," Tafi said.
About 57 billion pieces of cigarettes were produced in Iran in 2009, of which 7 billion fell to Tehran, Urmia, Isfahan, and Rasht cities, he added. The rest were imported to other countries. According to Tafi, each cigarette reduces human life for 5 seconds and one person in the world dies every 8 seconds. The number of smokers mainly increased among young people in Iran, he added.
/
Trend
/