Turkish Prime Minister Recep Tayyip Erdogan said that France should change its view about Turkey, adding, "French President Nicolas Sarkozy should come and see today's Turkey."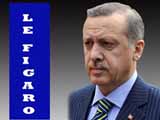 Erdogan is set make a visit to Paris to end the Season of Turkey events in France. Ahead of his visit, Erdogan, in an interview with French daily Le Figaro, said that not all of the French people were against Turkey's EU membership.
France and Germany are against Turkey's full membership. They propose a privileged partnership instead.
Erdogan said that part of the French people had prejudices, however, he added Turkey had to work hard to overcome these prejudices.
German Chancellor Angela Merkel last week paid a visit to Turkey for the first time since 2006, Erdogan recalled, and said that Sarkozy too, who earlier said he visited Turkey when he was young, should come and see today's Turkey.
"I will invite him to Turkey. And if he comes, he will see how Turkey is ahead of several EU countries in many areas," he said.
On Iran's nuclear program, Erdogan said that the issue should be resolved by the help of diplomacy. He said sanctions would not be helpful.
/World Bulletin/