Georgia currently expects no armed aggression from Russia, Georgia's Deputy Foreign Minister stated Nino Kalandadze said.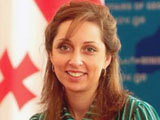 "From the point of view of security, the situation in the region is poor, but I don't think at the present stage there can be a threat of military aggression. At the same time, we must remember the provocations of that kind are what the Russian government is guided."
Previously the Ministry of Foreign Affairs of Georgia considered the incident with "penetration" of a military boat to the Georgian territorial waters near Ganmukhuri settlement a threat to security of the country.
"Considering that international monitoring in the occupied territories is limited, it can be said that this and other actions bring certain threats," Kalandadze added.
/Georgia Times/