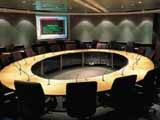 On April 3-4, 16 journalists from the four Caucasian countries participated in "Journalists for stability and cooperation in Caucasus" forum organized by Izmir Journalists Association and Department of Communications at Izmir University of Economics.
Representatives from Russia, Armenia, Georgia and Azerbaijan discussed the role of mass media in securing stability and cooperation in Caucasus at the round-table.
President of Yerevan Press Club Boris Navasardyan also attended the event.
Izmir Journalists Association President Atilla Sertel said in the welcoming speech that such a meeting is held for the first time, and aims to have contacts between Armenian and Azerbaijani journalists that influences societies of two states.
He also wished Georgian and Russian journalists to have the problems resolved by means of information.
/News.am/