Turkish Prime Minister Recep Tayyip Erdogan met with Crown Prince Shaikh Tamim bin Tamim Hamad al-Thani of Qatar on Sunday.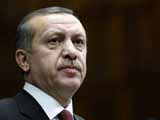 The meeting at Prime Minister Erdogan's office in Istanbul took place behind closed doors.
Qatari Minister of State for Interior Abdallah bin Nasir bin Khalifa al-Thani and Minister of State for International Cooperation & Conferences Khalid bin Muhammad al-Atiyah also attended the meeting.
Following the meeting, Prime Minister Erdogan hosted a dinner in honor of the Prince and his entourage.
/Trend/