Amid US calls for swift UN sanctions against Iran, a senior lawmaker says Western powers should have learned by now the "futility" of any economic measure against Tehran over its nuclear work.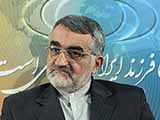 On Tuesday, US President Barack Obama called on the UN Security Council to adopt a new round of sanctions resolutions against the Tehran government in a matter of weeks.
"I'm not interested in waiting months for a sanctions regime to be in place," Obama declared during a press conference with his French counterpart Nicolas Sarkozy. "I'm interested in seeing that regime in place in weeks."
His comment were casually brushed aside by Chairman of the Iranian Parliament (Majlis) National Security and Foreign Policy Commission Alaeddin Boroujerdi, who asserted on Sunday that such a move would not be any different from the previous sanctions resolutions, which failed to bring Tehran to its knees with regards to its nuclear issue.
"[The US President] should realize that even if the UN Security Council imposed new sanctions against Iran, it would only increase the number [of sanctions], not their significance," he said.
"We are determined to defend our rights within the framework of international rules and regulations," added the Iranian Parliamentarian.
Regarding US accusations of an Iranian intent to violate international law by keeping two nascent nuclear sites in the dark, Boroujerdi said the country's actions are based on respect for its legal obligations and the nuclear Non-Proliferation Treaty (NPT).
"The Iranian government has never stepped out of line with regards to its commitments under the NPT and international regulations," he added.
World powers, most of which possess and continue to develop vast nuclear arsenals that have been tested and even used in military confrontations, accuse Iran of having the "intention" to enrich uranium to weapons-grade levels and have gone to great lengths to prevent the country from producing fuel to meet its medical and industrial needs.
As a signatory to the NPT, Iran insists that it neither believes in atomic weapons, nor does it intend to access such weapons of mass-destruction.
Moreover, Tehran has repeatedly called for the elimination of all nuclear arms throughout the globe — a call which has been largely ignored by Western nuclear powers.
/Press TV/