Iran has sent letters to five international sports organizations to complain about FIFA's decision to ban Iranian women footballers from wearing hijab.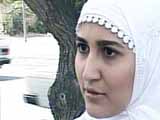 "The letters have been sent to heads of FIFA, the International Olympic Committee (IOC), the Olympic Council of Asia (OCA), the Association of National Olympic Committees (ANOC), and the Asian Football Confederation (AFC)," Iran's National Olympic Committee Secretary General Bahram Afsharzadeh said on Sunday.
"We have asked the heads of these international sports organizations to review and annul FIFA's decision," he went on to say.
Last week, FIFA banned the Iranian women's football squad wearing hijab from participating in the inaugural Youth Olympic Games (YOG) which will be held from August 14 to 26 in Singapore.
"Hijab is related to the Islamic culture and Muslim women can't take part in social activities without it," Afsharzadeh concluded.
Meanwhile, President of Iran's Football Federation Ali Kafashian has announced that due to religious beliefs the Iranian women team will participate in the competitions only if they are allowed to observe the Islamic dress code.
A total of 3,500 athletes from 170 countries will partake in the games in the 2010 Youth Summer Olympics.
/Trend/