Iran's President Mahmoud Ahmadinejad is planned to visit West Azarbaijan province next Wednesday to pay his third round of provincial tours there, an official said Monday.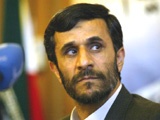 Provincial Governor Vahid Jalalzadeh said President Ahmadinejad and his cabinet members will stay in the province for two days and meet with the provincial people and executives as well as the families of martyrs.
Jalalzadeh said Ahmadinejad is due to inaugurate 27 development, industrial and service projects in West Azarbaijan. He is also scheduled to consider province's problems, the governor added.
The initiative of visiting various Iranian provinces started when President Ahmadinejad took office for his first term as the Iranian president in 2005 to become closely familiar with people's problems in different parts of the country.
/Irna/