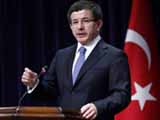 Turkish Foreign Minister Ahmet Davutoglu says it is unfair that certain Western countries want to impose a new round of sanctions on Iran on the pretext that the country allegedly has a clandestine nuclear weapons program.
In an interview with the Italian weekly magazine L'Espresso published on Saturday, Davutoglu said a tougher line on Iran would not work out since previous rounds of sanctions against the Islamic Republic have been ineffective.
"Sanctions have failed to meet their objectives in the past. The Iranian nuclear issue needs to be discussed and resolved through an amicable process," he stated.
The Turkish foreign minister added that Ankara is strongly opposed to the proliferation of nuclear weapons in the Middle East since the region is in dire need of political stability and economic development.
"No country should possess nuclear weapons, not Iran or Israel or any other country. The Middle East should be a nuclear weapons-free zone," Davutoglu said.
The United States, Israel, and some of their allies accuse Tehran of pursuing military objectives in its nuclear program.
Yet, as a signatory to the Nuclear Non-Proliferation Treaty and a member of the International Atomic Energy Agency, Iran has the right to develop and acquire nuclear technology meant for peaceful purposes.
In addition, the IAEA has conducted numerous inspections of Iran's nuclear facilities but has never found any evidence showing that Iran's civilian nuclear program has been diverted to nuclear weapons production.
But Israel possesses a nuclear arsenal of at least 250 warheads and has never allowed IAEA inspections of all its nuclear facilities.
/Trend/