German Foreign Minister Guido Westerwelle said Turkey had an important mediation role in promoting peace, according to a newspaper interview released Saturday.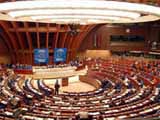 Westerwelle also called for Turkey to be treated fairly in ongoing negotiations for European Union membership, but said both Turkey and the EU were not yet ready to join, in an article to appear in the Frankfurter Allgemeine Sonntagszeitung.
"Turkey is making an important contribution, with numerous initiatives, to peace and stability in its neighbouring region," the foreign minister said.
These initiatives included Turkish mediation role in relations between Afghanistan and Pakistan, as well as its stance on Iran's controversial nuclear programme - "precisely now, as a member of the United Nations Security Council," Westerwelle pointed out.
The foreign minister said that the possibility of EU membership was a strong driving force for the "impressive change and reform processes in Turkey."
"Of course, with regards to (EU) accession, nothing is automatic. The negotiations are an open-ended process," Westerwelle added.
He said Germany had a fundamental interest in good relations with Turkey, since the two countries were economically interwoven.
/Trend/