Turkish Prime Minister Recep Tayyip Erdogan will pay formal visits to Bosnia-Herzegovina and France.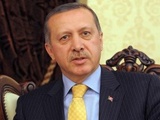 According to the statement by Prime Ministry Press Center, Prime Minister Erdogan would attend a meeting at Bosniak Institute in Sarajevo on April 5th.
Erdogan will deliver a speech in the 1st International Investment Conference and Sarajevo Business Forum on April 6 and hold talks with Bosnian officials during his visit.
Premier Erdogan will proceed to French capital of Paris upon invitation by French President Nicolas Sarkozy.
Erdogan will participate in the closing ceremony of "Turkey Season" in France during his visit to this country on April 6-7. He will attend a luncheon to be hosted in his honor by Sarkozy on April 7.
/World Bulletin/