President Obama accused Iran of seeking to destabilize the Middle East by "trying to develop the capacity to develop nuclear weapons."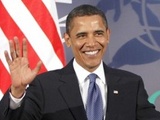 After urging China's president to support anti-Iran efforts, US President Barack Obama said Friday that he seeks to test Iran by escalating pressure on the country over its nuclear program.
"I have said before that we don't take any options off the table, and we're going to continue to ratchet up the pressure and examine how they respond," Obama said.
"But we're going to do so with a unified international community — that puts us in a much stronger position."
The West accuses Iran of seeking to develop nuclear weapons. Iran, a signatory to the Nuclear Non-Proliferation Treaty, says its program is a civilian one.
President Obama, however, said no options should be taken off the table with regards to Iran, after claiming that Iran has become isolated and its economy will crumble under further pressure.
The remarks came after he called his Chinese counterpart, Hu Jintao, to pressure him into supporting tougher sanctions against Iran.
China, a veto-wielding member of the UN Security Council, favors dialogue and negotiation to solve the nuclear standoff.
/Press TV/