The leaders of Britain and Germany on Thursday backed plans to push for tighter sanctions against Iran, which the United States hopes can be agreed by the end of the month.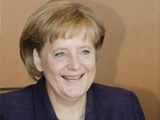 British Prime Minister Gordon Brown and German Chancellor Angela Merkel met Thursday at Chequers, the prime minister's country residence northwest of London, for talks on Iran's disputed nuclear program, global economic crisis and climate change.
Their discussions followed talks earlier this week between President Barack Obama and French President Nicolas Sarkozy, in which they pledged tougher action against Tehran over its refusal to halt its uranium enrichment program.
The U.S. and allies accused Iran of seeking to develop nuclear weapons, while Tehran insists it is engaged in the legitimate development of civilian nuclear power.
Senior diplomats from Britain, the U.S., France, Germany, Russia and China - the six-country group that negotiates over the nuclear program - agreed in a conference call Wednesday to press for a new round of sanctions.
The U.S. hopes a new U.N. resolution on Iran could be passed by the end of April - though much will depend on whether China agrees to tougher action.
Brown's office said in talks with Merkel "there was strong support from both leaders for sanctions and agreement on the continued need to engage with international partners on the issue."
Merkel's office said she also had an "extensive and friendly" telephone conversation with Chinese Premier Wen Jiabao in which the two discussed many of the same issues, but it did not elaborate.
Brown and Merkel - who were meeting a year after Group of 20 leaders gathered in London to hammer out a solution to the world economic crisis - also discussed how "to ensure another successful G-20 summit," this year in June in Toronto, the British leader's office said.
During the visit, Merkel was awarded the King Charles II medal by the Royal Society, Britain's academy of sciences. The medal is given to foreign heads of state "who have made an outstanding contribution to furthering scientific research in their country."
Merkel earned a doctorate for her thesis on quantum chemistry in 1986.
The medal's other recipients are Emperor Akihito of Japan, who won the medal in 1998, and former Indian President A.P.J. Abdul Kalam, who was awarded the medal in 2007.
/Trend/