If a decision to visit the U.S. is made, the Turkish delegation plans to hold meetings with representatives of the Armenian lobby, Turkish Foreign Minister Ahmet Davutoglu told the media.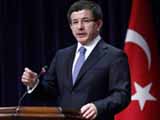 The final decision on Prime Minister Recep Tayyip Erdogan's visit to the U.S. will be announced April 2.
Erdogan canceled his visit to Washington, which was scheduled for April 11, because the Committee on Foreign Affairs of the House of Representatives adopted the resolution on "genocide" April 11.
After the resolution was adopted in the committee of the Congress, Erdogan said that his visit to the United States remains in question. It is not ruled out that official representative of the Turkish government will go to participate in an international summit on nuclear security.
/Trend/