The Turkish president said on Thursday that it was time for economic cooperation with Pakistan.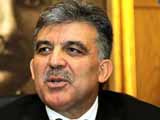 Turkey's President Abdullah Gul defined Turkish-Pakistani political relations as perfect, and said it was now time for economic cooperation.
"We know we have not reached the level we desire in economy, and we have to have a cooperation that suits our perfect relations," Gul said during Turkish-Pakistani Business Forum in Lahore, Pakistan.
Gul said cargo train service would begin between Istanbul and Islamabad, and it was high time that Turkish and Pakistani businessmen discovered each other.
President Gul called on businessmen to make use of two countries' potential in energy, industry, manufacturing industry, agriculture, food and construction.
Gul said Turkey was ready to share its experiences with Pakistan in dam and hydroelectric power plant construction and contracting services.
President Gul asked Turkish and Pakistani businessmen to establish partnerships, and Turkish businessmen to invest in Pakistan.
Also, Gul said Turkey and Pakistan were supporting each other in international arena.
After Gul's speech, the Union of Chambers & Commodity Exchanges of Turkey (TOBB) and the industrial zone in Lahore signed an agreement that enabled Turkish businessmen to invest in the region.
Gul arrived in Pakistan on Tuesday, and met Pakistani Parliament Speaker Fehmida Mirza, Senate Chairman Farooq Naek in Islamabad on Wednesday. Gul held a joint press conference with his Pakistani counterpart Asif Ali Zardari, and attended the "Turkey-Pakistan Business Forum".
Pakistani President Asif Ali Zardari presented Pakistan's State Medal to Turkish President Abdullah Gul on Wednesday.
/World Bulletin/