German Chancellor Angela Merkel discussed Iran's nuclear enrichment programme with Chinese Prime Minister Wen Jiabao during a telephone call on Thursday, a German government spokesman said.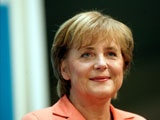 The leaders also discussed economic issues and climate change policy during their "extensive and friendly" conversation, the spokesman said.
Chinese PM welcomed Merkel's decision to visit China with a business delegation later this year, in response to an official invitation.
Earlier in the day, China gave signs that it might be willing to agree to new UN sanctions against Iran, during a visit to Beijing by Iran's chief negotiator on nuclear issues.
"We will continue to push the issue in the direction of peaceful resolution," Foreign Ministry spokesman Qin Gang said of China's position on Iran's nuclear programme.
"We will maintain negotiations and coordination in all forms with all relevant parties," he said.
But Qin did not repeat China's usual position of opposing new sanctions and pushing for a diplomatic solution to the standoff.
Chinese Foreign Minister Yang Jiechi and Dai Bingguo, a senior diplomat, planned to meet Iranian envoy Saeid Jalili.
Chinese President Hu Jintao will also attend a nuclear security summit in the United States later this month, the Foreign Ministry announced Thursday.
/Trend/