An earthquake measuring 4.1 on the Richter scale jolted the Eshkanan town in the Fars province of Iran this afternoon.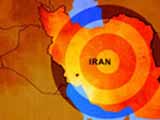 The Seismological Center under the Tehran University's Geophysics Institute registered an earthquake at 12:01 local time.
Six minutes after the first earthquake in Eshkanan city, the second quake measuring 4.2 on the Richter scale jolted the city.
There are yet no reports on the number of possible casualties or damage to properties.
/Trend/