Iran was still considering a proposed uranium exchange deal with world nuclear powers, Foreign Minister Manouchehr Mottaki said Thursday.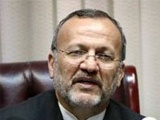 "The uranium exchange deal is still on the agenda of negotiations and the relevant countries could still reach a agreement with Iran," Mottaki said during a visit to Algeria.
In October, the International Atomic Energy Agency (IAEA) brokered a deal under which Iran could swap low-enriched uranium with Russia and France for nuclear fuel to power its medical reactor in Tehran.
Although the deal would not have entirely settled the dispute, it has been considered as a first step towards unlocking further talks on Iran's nuclear programme.
Iran has sent mixed signals on the deal, and lately insisted that the swap should be made on Iranian soil and in at least three phases, conditions which have been rejected by the other parties involved.
Atomic chief Ali-Akbar Salehi said, last month that Iran would drop one of its conditions and be prepared to exchange 1.2 tons of its low-enriched uranium in a single exchange for 120 kilograms of 20-per-cent-enriched uranium.
Iran enriches uranium to below 4 per cent, which qualifies as low-enriched, but the Tehran reactor needs fuel enriched to 20 per cent to operate.
Tehran still insists that the handover take place on Iranian territory to ensure a proper implementation of the deal.
The uranium swap was proposed to increase transparency of Iran's nuclear programme, which Western countries fear Tehran could be using to develop nuclear weapons, a charge denied the Islamic republic.
After the IAEA-brokered deal stalled, Iran started its own 20% enrichment process in February at its enrichment site in Natanz.
Tehran has nonetheless several times noted, that the IAEA deal was still on the table and declared itself open to further negotiations on the issue.
Iran maintains it has the right to pursue civilian nuclear technology and rejects charges of working on a secret nuclear military project.
/Trend/