Today Iranian Foreign Minister Manouchehr Mottaki will visit Gabon in west central Africa.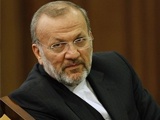 The visit is aimed to discuss the bilateral relations, and regional and international issues. Regarding his Gabon visit, the minister said that Gabon is the member of the UN Security Council, thus "we want one more time to deliver our position on uranium exchange need for Tehran reactor to Gabon's attention".
In October 2009, the International Atomic Energy Agency (IAEA) and "six international mediators on Iran" (Russia, the U.S., China, Britain, France and Germany) offered Tehran to exchange low-enriched uranium to high-enriched uranium. Iran has not rejected the proposal, but the parties failed to agree on a fuel exchange.
The U.S. and other Western countries accuse Iran of developing nuclear weapons for military purposes under the guise of peaceful nuclear energy program. Tehran denies the charges, saying that its nuclear program is aimed solely at meeting the country's electricity needs. The U.N. Security Council adopted five resolutions in connection with the suspension of Iran's nuclear program. Three involve the use of economic sanctions on Iran.
The Tehran laboratory reactor was built 40 years ago by the United States and its main function is to produce medicine.
March 31, the minister paid a one-day visit to Algeria and today he leaves the country for Gabon.
/Irna/