Armenian British Connect (ABC) initiated establishment of Armenian-British Chamber of Commerce (ABCC) in Yerevan.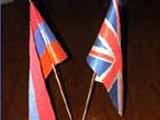 ABC Chairman Hayk Harutyunyan said that the organization aims to facilitate development of Armenian-British relations through educational projects, strengthening of intercultural liaisons, financial integration, economic cooperation and interaction of non-governmental organizations.
According to him, opening of ABCC in Yerevan will take place within two weeks and work is carried out for the chamber's establishment in London.
"Engagement of British businessmen and attraction of further investments in different sectors of Armenia's economy are of keen importance for us. We initiated ABCC establishment to facilitate business ties and create multifunctional facets of cooperation between the two countries," Harutyunyan said.
Armenian British Connect (ABC) is a non-profit and non-governmental organization. Their membership base is comprised mainly of alumni of UK educational institutions.
/
PanARMENIAN.Net/