Iran denies any interference in Iraqi internal affairs following the victory by former Iraqi prime minister Ayad Allawi's faction in the March 7 parliamentary elections.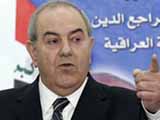 "Iran has constantly supported the democratic process in Iraq and would do so in the future," Foreign Ministry spokesman Ramin Mehmanparast said.
"Also talks about a coalition government are an internal matter of Iraq in which Iran will have no interference at all but be willing to help," he added.
Some people close to Allawi's Iraqi List have accused Iran of meddling in the post-election developments in Iraq with the aim of hindering Allawi's chances of becoming prime minister.
The Allawi bloc is also concerned about Iran's plan to hold talks in Tehran on forming a new Iraqi government.
Mehmanparast confirmed Iran's readiness to host all Iraqi political parties for enabling them to reach an agreement on the new government.
However, he said that such a meeting should not be interpreted as interference but "support for the political process and helping a swift formation of the new government."
Allawi won 91 seats in the 325-seat parliament, only two seats ahead of the State of Law coalition, led by his rival, current Prime Minister Nuri al-Maliki. The Iraqi National alliance came third with 68 seats.
Iran, whose support for al-Maliki was well known, has constantly stressed that the Islamic state's main concern was peace and stability in Iraq and would cooperate with any party that would win the elections.
Iran and Iraq fought a long and costly war from 1980-1988 that left millions dead. But, since the 2003 US-led invasion of Iraq, the Shiite and Kurdish-dominated government has established close relations with Iran, a common source of complaint among Iraqi Sunni politicians.
/Trend News/